MAULA specializes in manufacturing and distributing wholesale and retail of uniforms for Nails, Spa, ready-made high-class hair salons, free print / embroidery design required by customers… In addition to the apron specialized for the nail industry, many customers have ordered at the MAULA Uniform Company, with many models of uniform manicuring available or custom-made, you can come on duty.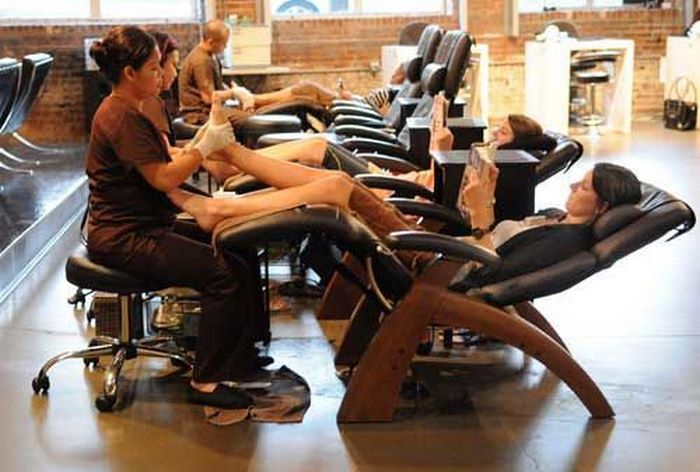 Next company to view and choose products with a variety of colors, diverse fabrics such as: kate fabric, khaki, … suitable for nail salons, depending on the needs of use we can meet the type of customer needs… Nail salon staff uniform, sewing spa with anti-stretch kate fabric, less wrinkles and less dirt, cool, easy to wear, bring a comfortable feeling to the wearer during work… The seam is skillful, meticulous, professional, creating beauty and quality for products, meeting the needs of users.
The bottom design with 2 handy pockets helps the user to store the necessary items in the working process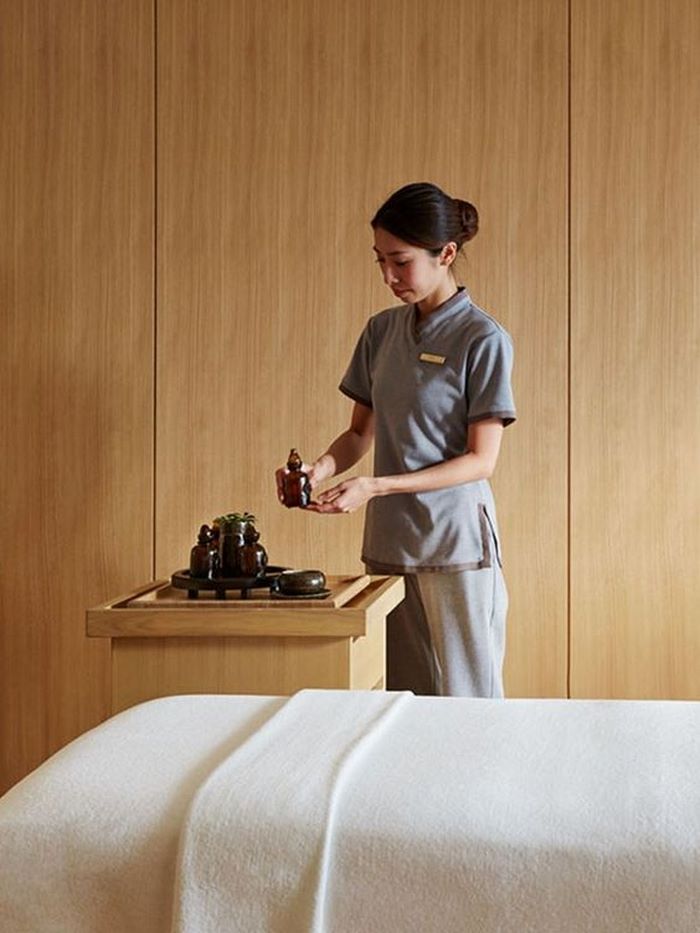 In addition, the fabric material is highly antibacterial, less fouling, and has a long time of use …Design with beautiful, convenient form, with many options for all customers… Products used to make nails salon staff uniform, spa staff uniform, …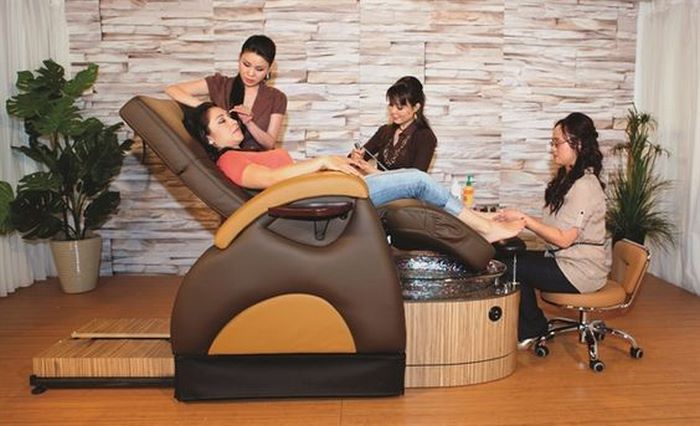 According to the above analysis can be seen nail is growing very quickly and strongly… It is not difficult to find a professional nail salon… Shops from large to small or integrated with spa salons, hairdressers always provide easy access for girls to have the need to own a magnificent nail set for themselves.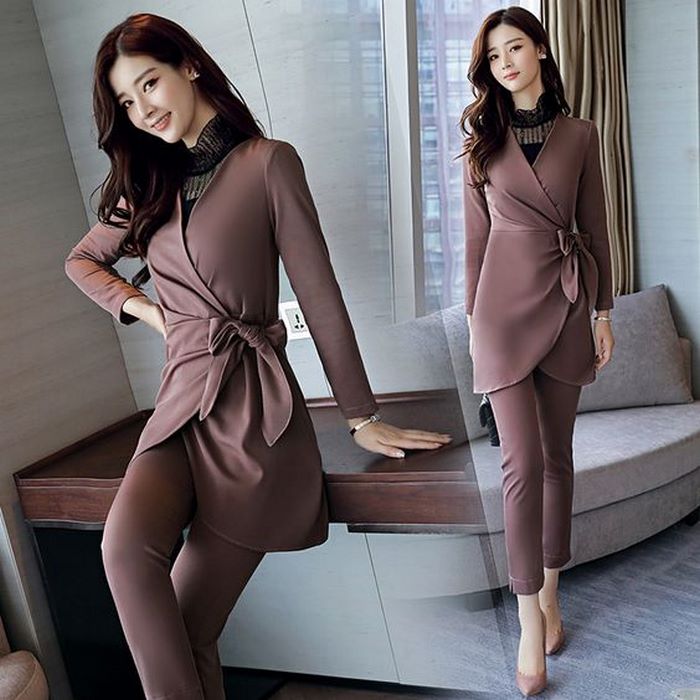 Because there are many nail stores that operate too professionally and vigorously. Make for intense competition with nail stores with each other. Reducing their customer base in many different ways. And even the way is not fair… So how to make your nail salon thrive and have fair and healthy competition?… Let your nail salon have a new direction. Along find out the article below.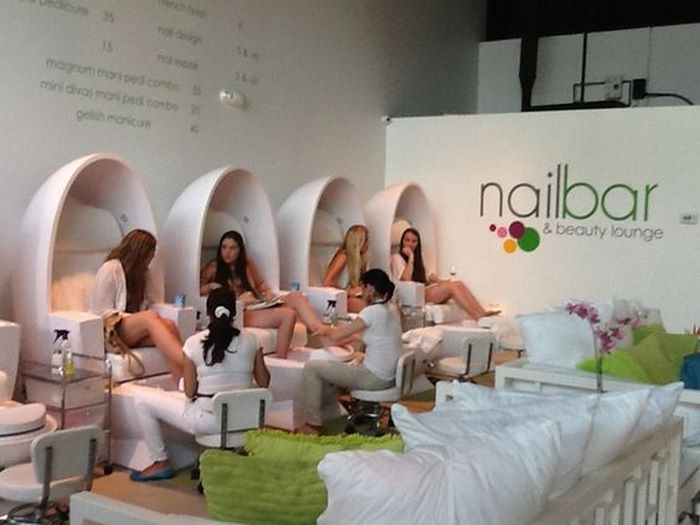 Equipped with 4-dimensional fabric nail uniform t-shirt; Does your nail salon have a nail uniform t-shirt yet?… Usually the nail salon is a pretty friendly environment. And rarely have his own discipline… In the old days, nail was one of the occupations only available to the unemployed. But today it's different from nail care that ranks as one of the most aesthetically pleasing of the industry.
And if we want the nail salon to grow, we can't go the old way… If you can escape that cover, build a new color, you are unique… Life increasingly goes into modern life. Their need to choose services also needs to be professional…Because of this nail salon you should not stand still in one place.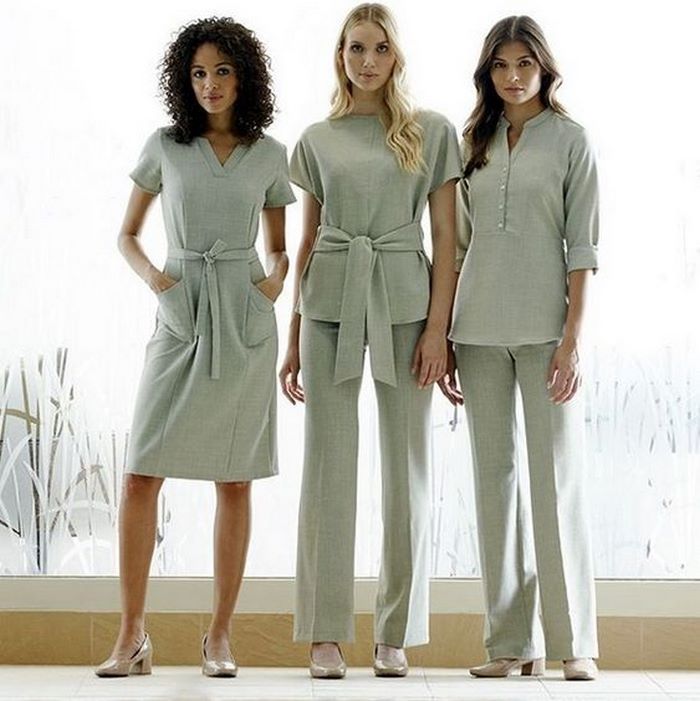 Sewing uniforms for 4-dimensional nail fabric… It's time you need to equip uniform t-shirts to make 4-dimensional fabric nail.
You try to imagine and position yourself in the customers. If you are a guest you will choose where to put your trust. Between a place dressed in a polite uniform and a place where each person is different… Of course your choice is still for where to put on a more polite uniform… Just having a 4-way nail fabric nail uniform t-shirt can get a little percentage of customer confidence.
Although they do not know how to service you. Good or bad. Just have a uniform t-shirt they have an instant love for your nail salon. So 4-way fabric nail uniform t-shirts are essential and really important for your nail salon.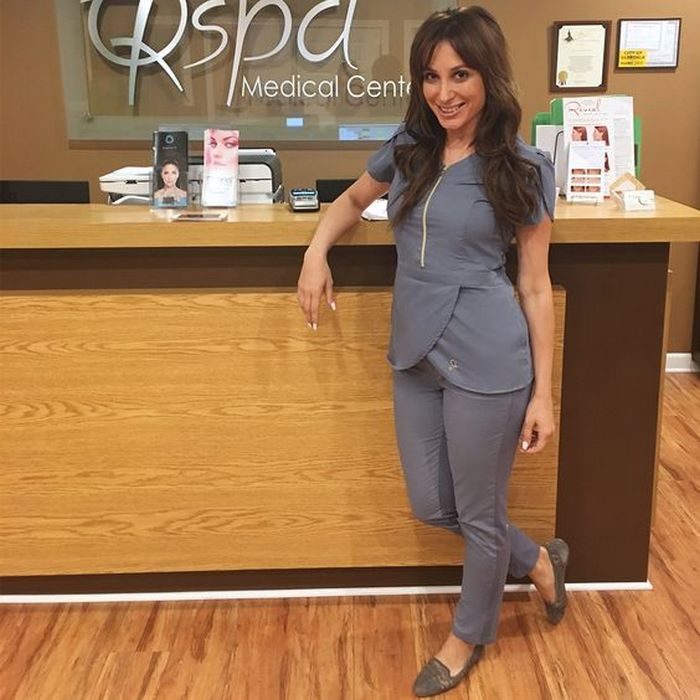 The secret to owning a uniform T-shirt makes a beautiful 4-dimensional fabric nail. Almost with the mentality of consumers, everyone wants to own beautiful goods and good products… And with today's market, if you want to own a good product you have to spend a lot of money; But with the Vietnamese income is not too high. And very few Vietnamese are willing to spend a lot of money to have quality products… So how and how can you own a quality product with such value as affordable.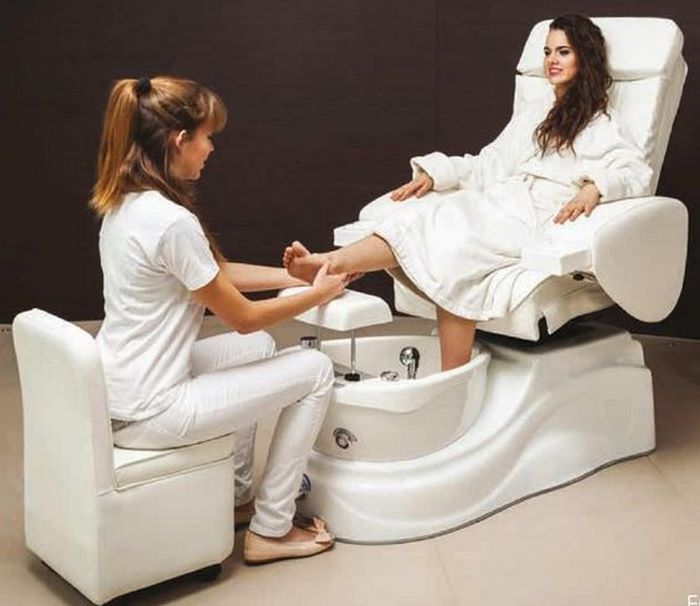 1 / Choose fabric material for uniform t-shirt as nail
To have a beautiful nail uniform t-shirt we cannot ignore this factor… Choosing the wrong fabric can cause the overall beauty and quality of a shirt to be lost.
Currently on the market there are many types of uniform production fabrics. However, depending on the needs of use, we can choose the right fabric.
It can be judged that a good fabric can not ignore the following small elements.
Has good absorbency:
With cold wet rains there is no problem. And the most typical example is that in the south there are only two seasons, the rainy season and the dry season.
The rain is quite little, but the sun lasts for a long time. And you can not escape the summer sun or other seasons.
Therefore, a good shirt needs to have good absorbency.
High elasticity:
The elasticity of the shirt will make you feel more comfortable with the shirt. Multidimensional movement but still comfortable.
Cool: If a fabric is good to the touch, it still feels cool. When worn on, it will give you a cool and airy feeling… And you can not help but think of a fabric that fully converges those elements. It is the 4-way fabric line.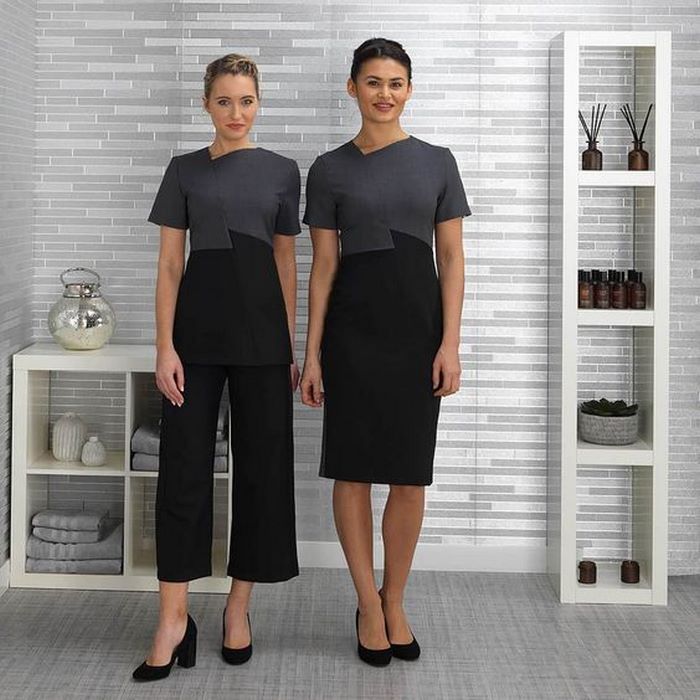 2 / Choose color & pattern for nail uniform T-shirt
Behind the fabric, you cannot skip this equally important step. That is to choose a design that is beautiful and suitable for the nail salon.
Choose a simple template:
If you just want to own a uniform 4-dimensional fabric nail T-shirt design as simple as possible.
+ Front: Then you should get one color that is to attach logo in front of chest or one arm It could also be a sticker related to your branding.
For example, if your salon is called kitty nail, you can take a picture of a hello kitty cat as the main logo.
+ Back side: You can print a line, a good and meaningful slogan. Or bring your nail salon information.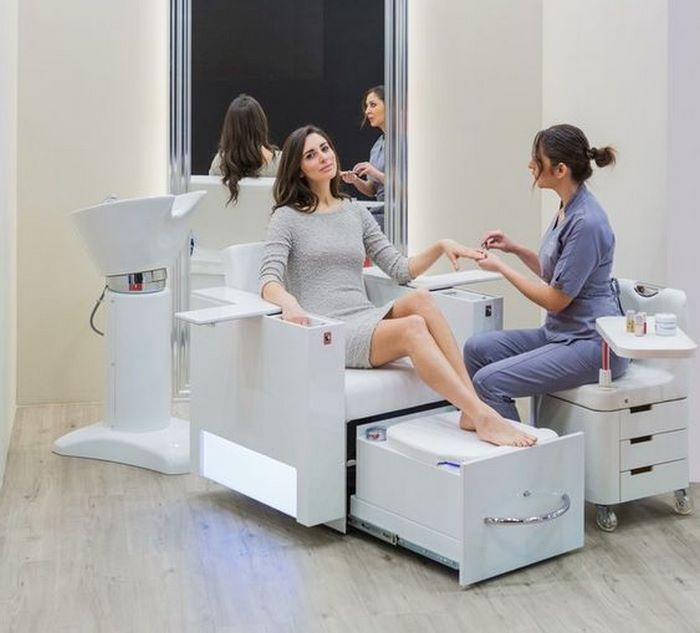 Choose a model according to the main color of the salon: Yes, you should choose a color that follows the main color tone of your nail salon.
For example: Your store's main color is pink, or purple. Then the color of the uniform T-shirt you bring right that color.
Select samples by color scheme: You can also mix colors together. But the color scheme must be in harmony and match with each other. For the best color scheme you should mix the best colors and light colors together.
The color scheme will create a different and new 4-dimensional fabric nail uniform T-shirt. Bring a more unique style to your salon.
3 / Choose a design for uniform t-shirt as nail
For some nail salons aiming for more professionalism, what they most focus on is the style… Style is the overall and most generalized look of a shirt… Design is an equally important factor compared to the design as well as the fabric. There are 2 basic styles for making a uniform t-shirt: neck and neckless.
Collar: Usually a uniform is polite and professional. So when it comes to uniform t-shirts, people often order the style of neck t-shirts.
And collared uniform T-shirt to quickly win customers' trust.
Round collar: Some nail salons work in an air-conditioned environment. But there are also some nail salons they do not use. So the environment is hotter. And the appropriate uniform shirt is a round neck 4-dimensional nail fabric T-shirt.
But it still feels polite and eye-catching. Because simply, the uniform shirt no matter what the style is, it will appear polite.
4 / choose size, size for uniform nail shirt
To create a professional environment, choosing size is not easy. You always think that size is the easiest problem. Because according to the number of kilograms that choose the right size…But no, choosing a size also has many cases. And there are 2 most typical cases:
Size for fat people: To design a uniform shirt for many people and size is the most crucial thing. If you are an oversized person, you should choose large sizes, absolutely wide, not too close to the body. Because if you hug, the wearer will also reveal unfortunate defects.
The size for the person is too low: choose the right size. Because if it's too wide, it will make the wearer too messy. And also lose the value of the uniform.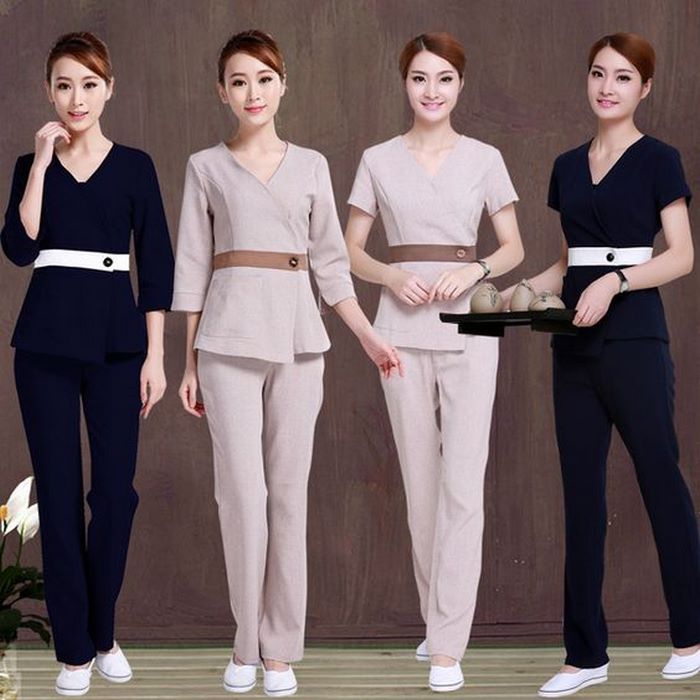 To own a uniform shirt, this is an important step and the final decisive step. Must find and choose a beautiful uniform t-shirt sewing factory… Because even if you can find a beautiful pattern, choose a good fabric, choose a beautiful design, but for a garment factory that lacks reputation and experience, everything is only zero.
So how to find a good and reputable garment factory?… It is simple but there are 3 steps for you to define what is a prestigious and quality garment company.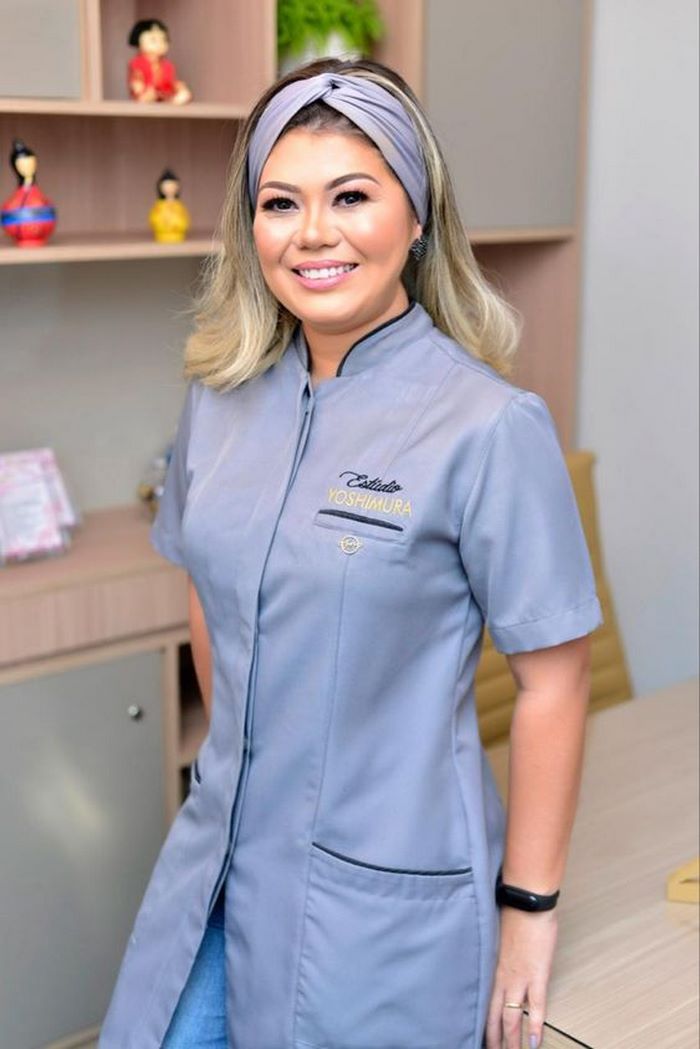 Is the quality of the garment factory good or not?
Currently, there are thousands of garment factories from large to small scale nationwide.
However, not all garment factories bring quality clothes with neat and neat stitches… And not all garment factories can produce beautiful uniforms. Because maybe they can only sew, but not at all specialized in uniforms.
Moreover, it is not easy to find a sewing workshop with a mind of kite… Therefore, if you want to place an order at the sewing factory, it is best to ask questions from the predecessors about the quality of fabric as well as sewing techniques at the sewing factory. How is it before deciding to cooperate, to avoid mistakes or controversy later.
In addition, you can also track them working through their website, facebook page, or many other social networking sites… And also find out through the actual orders they posted… The most important thing is to see what incentives and policies they have for customers.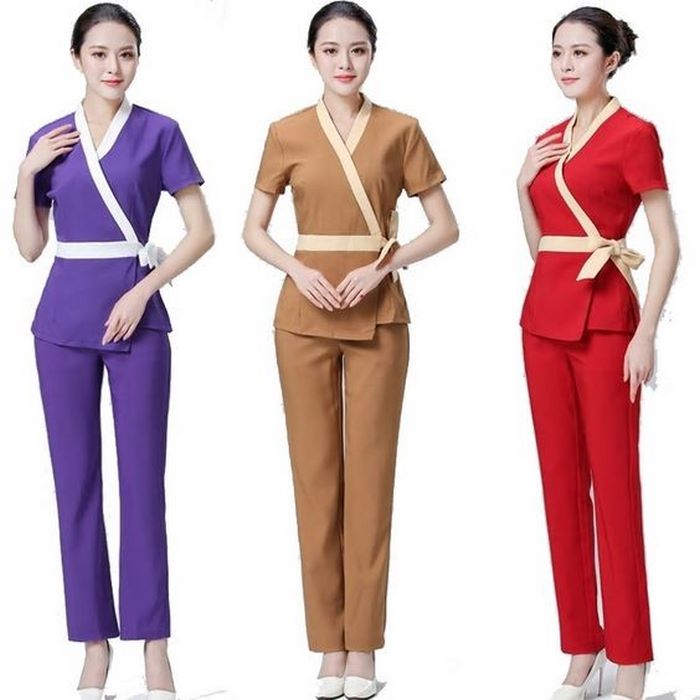 Is the garment factory model nice or ugly, diverse or not?
Although it is a uniform garment factory, it often designs outfits for sewing by themselves. However, not all garment factories can design beautiful outfits.
In addition, the problem of diversity of designs, because customers always want to have many styles to choose from when buying clothes. Therefore, you need to find T-shirt factories for 4-dimensional fabric nail design capable of designing eye-catching outfits. At the same time, the designs must also be rich and varied.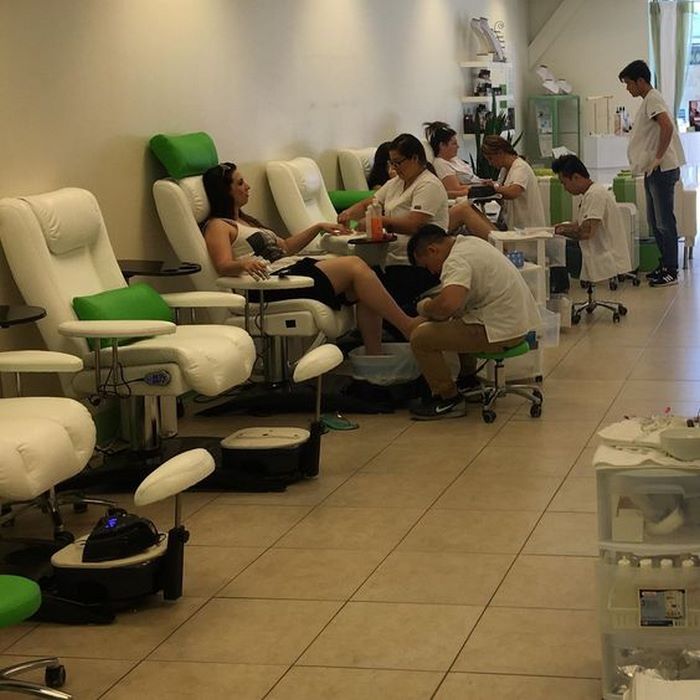 T-shirt garment factory making nail fabric 4-way MAULA.
MAULA is one of the most prestigious and quality garment factories in District GoVap.
With a mission to bring customers the most beautiful and eye-catching products. Because not only we, customers own beautiful uniforms. But also want customers to be proud of the uniforms put on… With experience sewing uniform t-shirts for more than many years. But not so we stop trying. Every day we learn and accumulate more knowledge. Complementing its sewing workshop is growing day by day… You don't need to worry anymore as we are here to assist you.



Successful orders
Even if the nail salon must have a uniform t-shirt …
The orders are shimmering yet… With the main color tone of yellow and attached to the lettering on the chest about the name of the salon "Kelly Nail Bar", it was so great to choose an excellent uniform T-shirt for the staff… What are you waiting for without ordering a nail uniform for your salon right away
Coming to MAULA You do not have to worry about the price, ensure the extremely reasonable price and the quality of the shirt is suitable for all working environments, including hot work places. Factory directly weaving – Cutting – Sewing – Printing – Embroidery without intermediaries… The 4-way stretchy stretch, High Quality Print and Embroidery.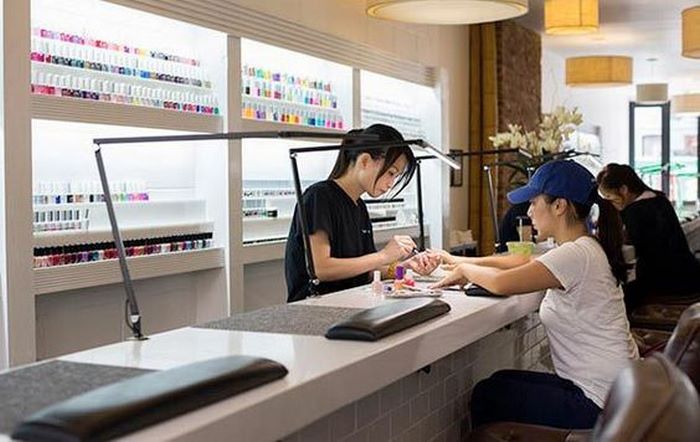 Several other commitments are made at MAULA
Using the most modern and advanced sewing technology.
Extremely low prices are suitable for Vietnamese income
Produce 100% correct products compared to the sample.
100% refund if the product is wrong model, wrong specification and poor quality.
Get sewing orders with low quantity.
Beautiful design consulting support.
Shorten sewing time if urgent.
Service on request: CONVENIENCE SAMPLE received to serve on request all customers with the number of orders from small to large uniforms. We are always dedicated, enthusiastic, attentive so you can choose to tailor your custom uniforms or the best available Spa outfits for your brand to shine …
See more samples taken at the workshop: https://maula.vn/danh-muc/anh-chup-thuc-te-xuong
Nice cheap uniforms. Get a variety of sewing industries, contact to receive free designs. Non-commercial direct sewing workshop, sewing urgent orders, receiving sewing in quantity… Price List for Sewing Uniforms · Preschool uniforms · Cafe Uniforms · Fabric Color Palette; MODULE T-shirt sewing factory specializes in manufacturing and supplying cheap uniform t-shirts in Ho Chi Minh City, accepting sewing uniforms upon request. Sewing t-shirts for restaurants, cheap uniforms …!