Dress always gives you a comfortable, easy to move feeling while still retaining the charm and femininity even in rainy and windy days. During the rainy or stormy weather in recent days, advice for choosing the outfit suddenly becomes extremely important and necessary.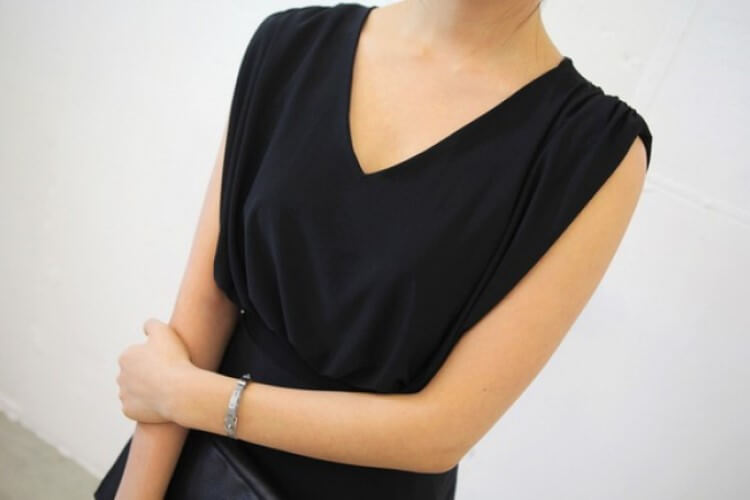 And the first suggestion to women is to choose for yourself short, instant dresses. The reason this is a top priority because when wearing a miniskirt, you will avoid the worry of getting wet rain or dirty splashes than choosing long pants or long skirts, while retaining the inherent feminine charm. Miniskirt is also comfortable and easy to maneuver even when driving or walking on the street, so you don't have to worry about the rain anymore.
Neutral color skirt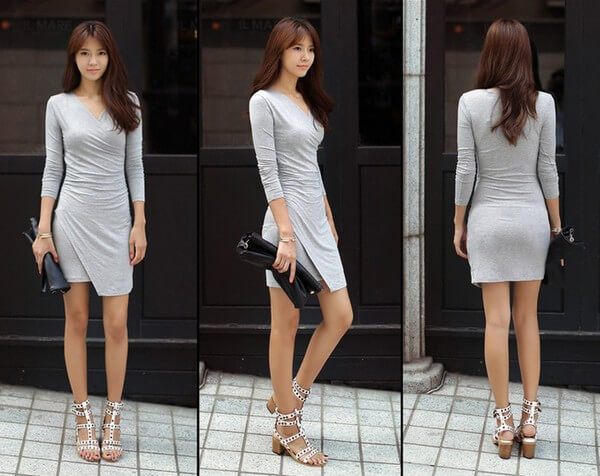 You can choose flare skirts, tight-fitting skirts or sleek skirts. However, the best way is to choose dresses that are comfortable, not too frilly or fussy to avoid unfortunate incidents when it rains, heavy winds. Neutral dresses with dark shades are the perfect choice, but colorful tones give you a radiant freshness even in overcast weather. You just need to stay away from excessively bright white clothing. Besides, choosing the right skirt for each body shape is also something you need to pay attention to.
Pear shape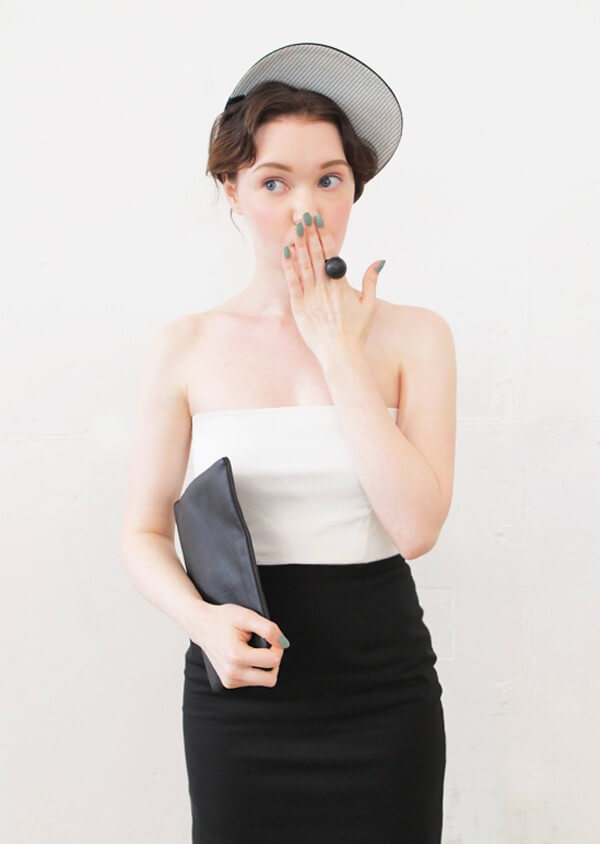 Round 1 is small while round 3 is quite full, which is the typical imbalance of a pear figure. With this pose, you should make the most of dresses with elaborate stylized highlights on the top and simply on the lower body. Besides, you can also choose dresses with small, moderate accents on the waist and wide lower body. This costume will help "deceive" the opposite person's vision of an hourglass-shaped shape. However, it should be noted that you should not choose dresses with the waist too tight, as this will make your bust feel a bit heavy.
The two-tone short dresses with 2 opposite light-dark colors, the slightly tight bottom part is the perfect embellishment item for her "pear". The deep neckline, the heart neck will draw everyone's attention to your beautiful upper body instead of the heavy lower body.
Sexy with tight short skirt, elegant V neck. The beauty of your round 3 will be fully exploited with this dress. Balance the ratio between upper body and lower body by mixing layering with a jacket or tie shirt. Dress letter A is an item created for girls "pear". In particular, the dark A-shaped dresses will help you conceal "oversized" butt and thigh.
It is recommended to take advantage of waist details such as peplum, thin belt to create a virtual effect of an hourglass body. In it, cut-out or sheer is also the perfect choice.
Apple Appearance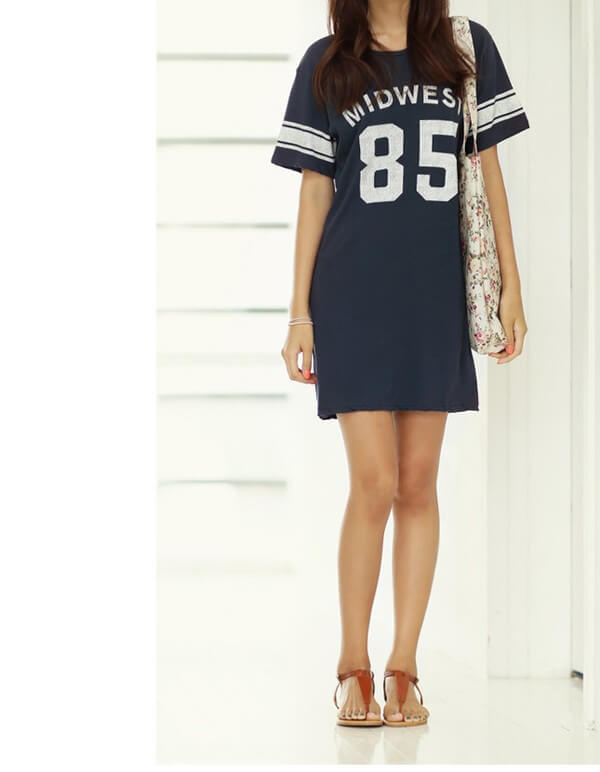 Characteristics of this pose are the shoulders, large chest, small hips; so you need to choose flatter skirts that have a waistline close to the bust line or a low-waist line near the hips. The perfect dress for an apple-shaped woman is a roll dress with the emphasis on the waistline, making the body look lighter. Apples should also choose a sleek dark dress to make the body look lighter. If you have large biceps, choose a skirt with flanks to cover it. Do not choose dresses that are too thin or too thick.
With only a classic little black dress, her "pear" was able to walk around in the rain. Waist-belt, V-neck, flared skirt, dark tones and sleeves – details that "apple" girls need to remember. Dress up to help balance perfectly the figure of "apple".
Should use thin belts with bright colors to highlight the waistline on the overall dark outfit. Sexy, trendy with sheer sleeve details. The vertical striped pattern also makes the body of the "apple" look slimmer.
Rulers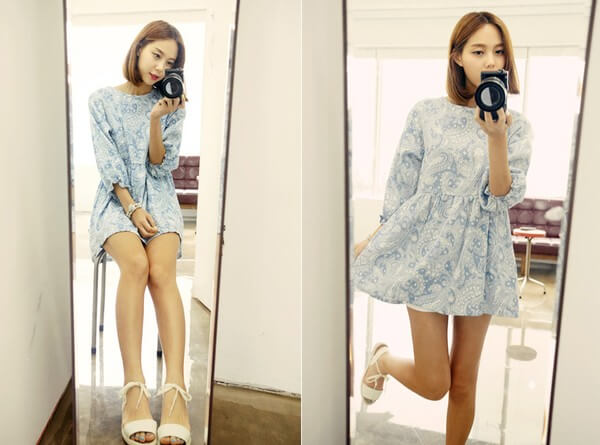 With a small and thin figure, stay away from tight short skirts. Instead, the layered details, ruffled will make you look a lot more full. The dresses press on the waist, especially the A-shaped skirt – an item too familiar will help create curves for her bust "ruler". Don't wear colors that are too dark. Feel free to wear vibrant colors and outstanding patterns.
A spacious and comfortable dress with just enough waistline, wide lower body will help her "ruler" look graceful and outstanding. Not only utilizing A-shaped skirt to create curves for round 3, she "ruler" can also be sexier with cut-out lines on the back and arms. Short skirts that have tight upper parts should be avoided, and in return, ruffled will help improve round 1.
Take advantage of the slim waistline with cut out lines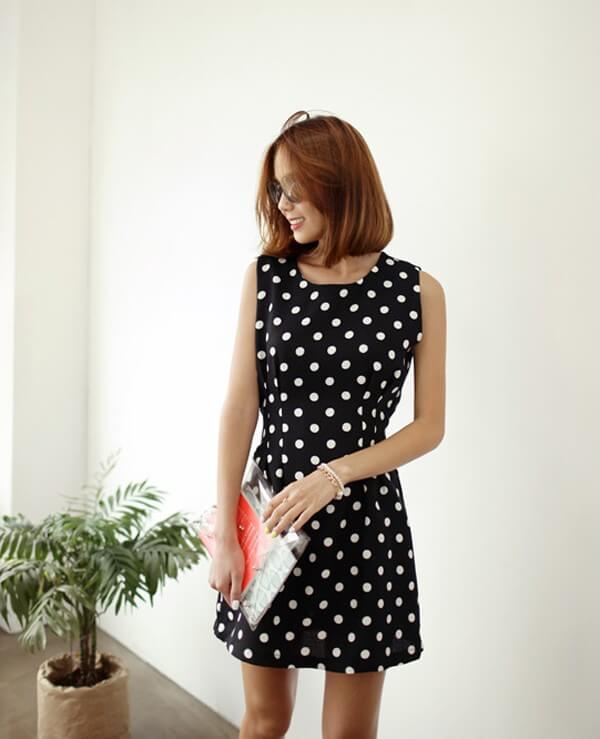 Besides, because the body is a bit thin, do not wear too dark tones. You can take advantage of colors that are bright, bright … or even a bit showy. The patterns that will contribute to the beauty of your rainy day dress are polka dots …