Regardless of your physique, you can confidently walk on the autumn street in charming, fluttering and sweet maxi dresses. Summer has completely left, now, filled with a place where the autumn weather is cool. This is a very suitable time for the girls to stride freely on the street in long flowing dresses. Along with midi skirt, the ankle-length maxi skirt or heel dot will be the ideal choice for feminine and gentle girls at this time. There are many reasons for you to keep an eye on the sexy and stylish maxi dress.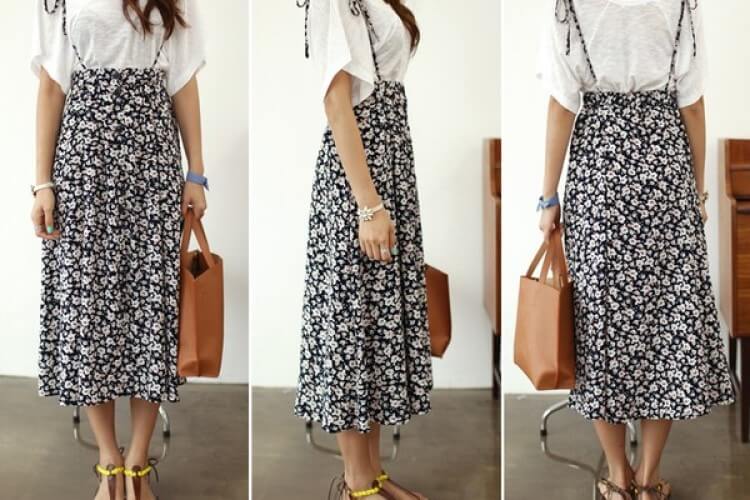 First, a maxi dress can help you become a multi-styled girl, depending on how you mix this item with the accompanying items, especially the jackets with bold autumn tones. Besides, the maxi dress can conceal all the disadvantages of your legs as well as height. This is an extremely easy-going item for any type of person. But combining outfits with maxi skirts to be able to show perfect shape and concealer is something not many of us pay attention to!
Apple-shaped body
"Apple" girls who have bodies with large shoulders, big breasts, and small hips, choose maxi dresses with waistline close to the bust line or the lower waist line near the hips. Highlights on the waist or waist will help your body look lighter. Do not choose cotton maxi dresses that hug your body, as they will reveal the imbalance between your proportions.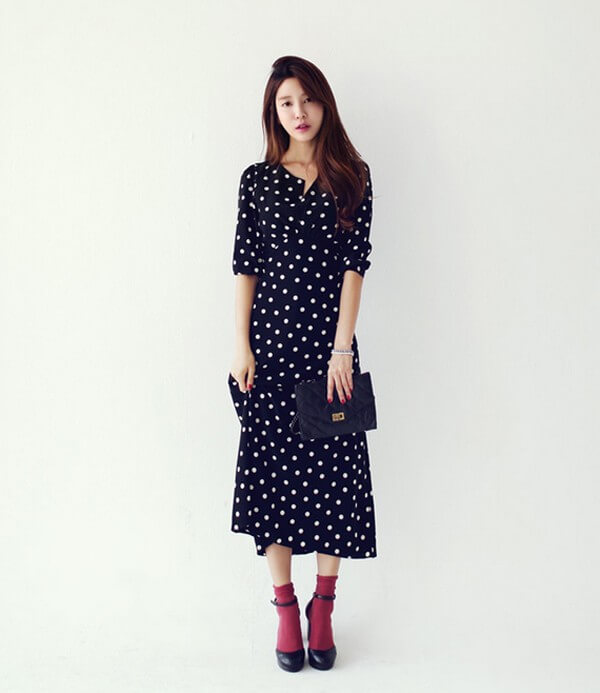 The arms and shoulders are the most noticeable defect of the "apple" girl, so in addition to looking for maxi dresses with short sleeves, open necks, you can mix layering with thin coats. Wear a pair of high-heeled shoes to create the feeling of having slim legs. Besides, the slippery maxi dresses will help the "chubby" girls become considerably more elegant.
With the disadvantage of the shoulders and arms, should choose a short sleeve maxi dress to conceal this defect. If you have the ideal height, a maxi waist-length and ankle-length skirt is a special item for your physique. In addition, you can apply layering to reconstruct your physique. The items on the list of her "apple" must have a thin cardigan.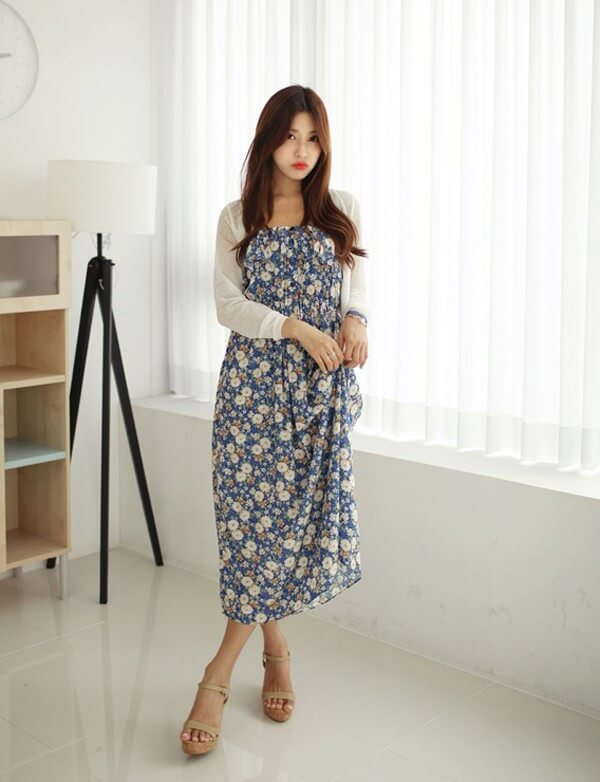 Denim jacket mezzanine.
Depending on the weather, choose a suitable and beautiful jacket. Each jacket shape will give you a different style. You can be a gentle, feminine girl with a cardigan; maybe a girl who likes dust, street style … with denim jacket, lether jacket.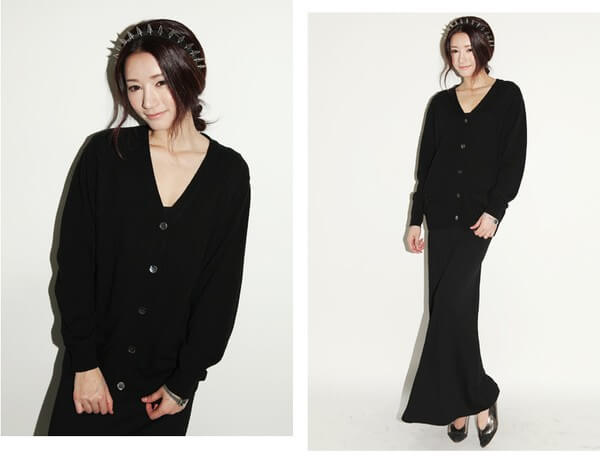 Coordinating cardigan shirt with the same color with maxi dress seems to make you "stop", but if you choose the right accessories, you can also become extremely outstanding!
Should choose a high waist dress to look slimmer.
Fashionista style with a loose jacket on the shoulder. With this combination, a blazer is the safest and most effective choice. In addition, you can freely wear somi shirts, mezzanine T-shirts with maxi skirts. If you want to "cheat" the height, the tie technique is a suggestion that cannot be ignored.
Pear shape
Round 1 is small, round 3 is too big, it means that you are a "pear" girl. The maxi dress is very suitable for this body because it completely conceals your imperfect lower body.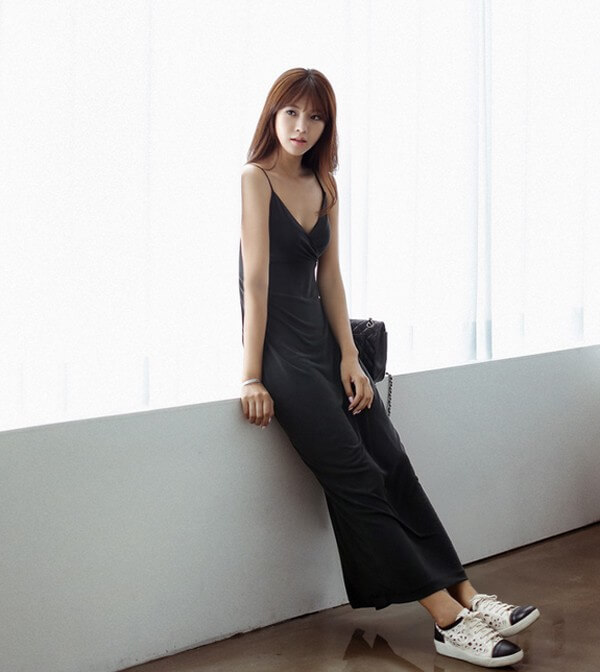 The advantage of the "pear" shape is that the upper body is slim, the shoulders are slim, so please confidently choose the strapless maxi dresses to "show off" your physical advantages. If she "pear" wants to show off her legs, the maxi, split or sheer dress is the perfect choice.
With the inherent physical features, the "pears" girls do not ignore the straight, stretchy cotton maxi dresses. Draw attention to the upper body with a captivating neckline detail.
Or mix with armpits to show the beauty of thin shoulders.
Oversized or sweatshirt sweaters both balance body shape and bring a distinct look to autumn day outfits with maxi dresses.
The leg part is not the advantage of her "pear". However, with maxi sheer … or maxi lace, nothing is impossible. Inconsistently coordinate with skinny pants to make a difference in style. Split-split maxi dresses are also very popular with "pear" girls because of their stylish and attractive look.
Rulers
Although it is quite easy to choose outfits, but her straight body is a big disadvantage for her "ruler" when wearing a maxi dress. If not smart, her "ruler" is like "swimming" between a baggy dress. So, please take care of the maxi dresses with outstanding colorful patterns, bright colors, enough hugging shape and not too straight. The details of the pinch or layering style typical of the fall also partly help to make the figure of the "ruler" more seasoned and attractive.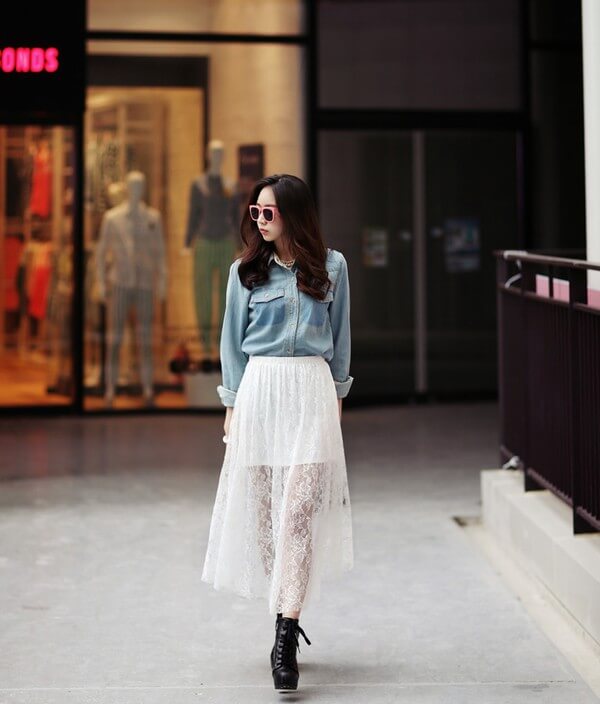 She "rulers" should not try the cotton maxi dresses, they will reveal your slender body and lack of vitality. Instead, there are maxi dresses with moderate spread, bright colors, and gentle materials. Create a "virtual" curve with trendy black-and-white stripes.
Or a thin belt can also make the difference between 3 rings for her "ruler". Should take care of maxi dresses or skirts with colorful, eye-catching patterns. Oversized coats make the opposite person think that she "rulers" looks more plump. In particular, the oversized shirt is the most "suitable" item to go with a maxi dress.
Worried about round 3 lacking curves? Don't worry, choose a layered maxi dress and you will look as attractive as an "hourglass" girl!