Not only is it about layers or layers of clothing, layering is also the art of coordination and the creativity of each person. If you know the application is flexible, this mix can cover all the shortcomings of your body.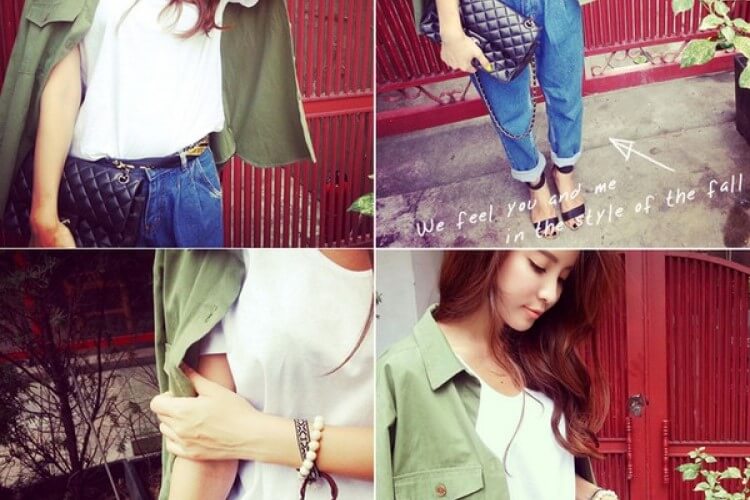 When it comes to autumn / winter fashion, we often use layering mixes. The usual "layer" formula of autumn fashion includes a thin inside, outside to shirt or coats such as denim jacket, blazer … For fashion followers, "layer" is not just a layer. or floor, but also the art of coordination and creativity of each person. Because combining poor class outfits, it will be easy to become sloppy or reveal weaknesses in physique.
However, if you are skillful in arranging the proportions of the outfit or the interaction between the colors and materials of the layers, you will create a unique, creative and "branded" fashion effect. your own calculation. Besides, this mix of clothes can also be flexibly applied to conceal the wearer's physique!
Pear shape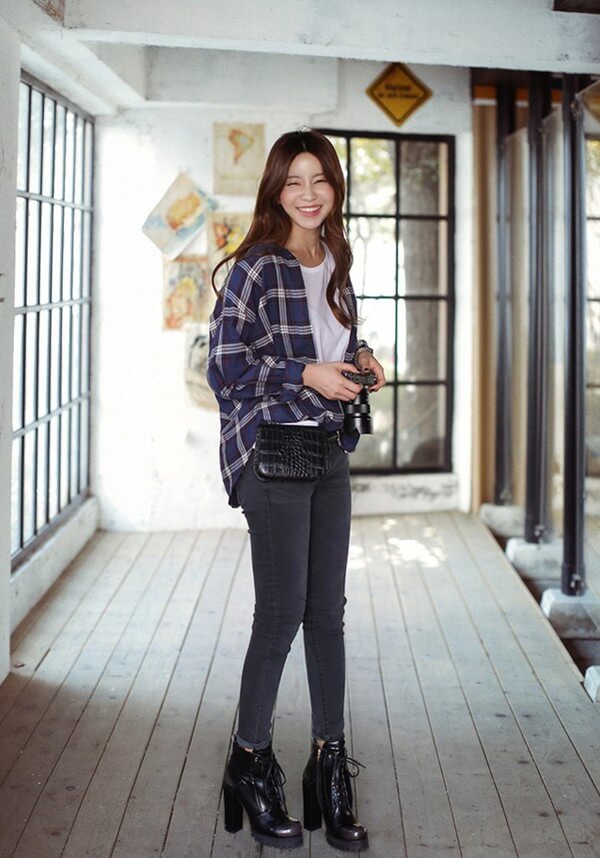 With an unbalanced body, usually the lower part blooming more than the upper part, the pear girl should skillfully apply the layers to balance the proportions of her body. The simplest way is to create a light / dark contrast between the two layers of the outfit, usually the outer layer should be brighter than the inner layer. Applying patterns such as horizontal lines, large flower motifs is also a way to both help balance the figure, the outfit is eye-catching and trendy. Should not wear coats with square shoulders, because when combined with legs that are not very slim, it will create a pretty "lumpy" overall.
If you want to focus on overcoming the shortcomings of the lower body, use dark skinny pants or loose skirt / skirt. For her pear girl, dark skinny pants are the ideal companion. The most standard recipe for the pear girl is T-shirt / tank-top / crop-top mix with oversized shirt and skinny pants.
This mix is suitable for a pear girl with the ideal height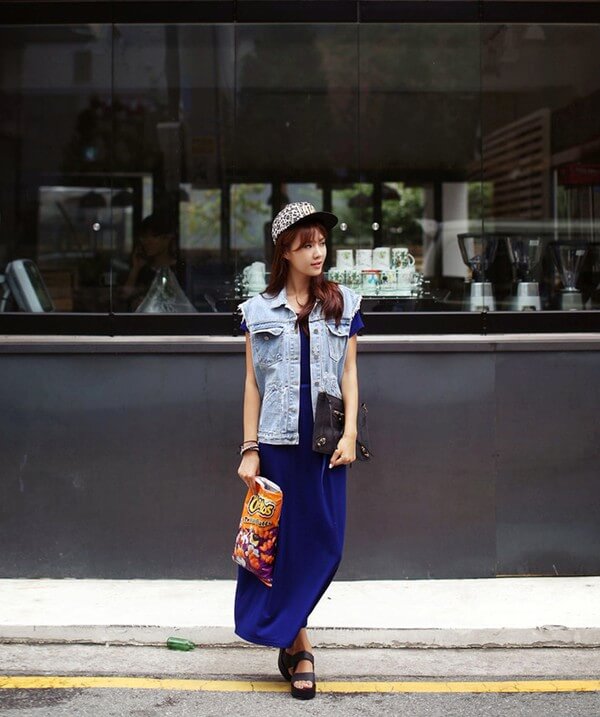 Balance your figure with a light-dark contrast between the two halves of your outfit. The tall skinny jeans are also a great weapon to make her more attractive. Choosing an ankle boot of the same color as skinny pants is the perfect way for her to cheat on her leg length. Besides, if you choose black as the main color, please emphasize the prominent motif on the jacket!
The slick, slightly tapered pants are also very suitable for the pear shape. With this item, the standard recipe is to combine with a blazer. Similar, but replaced with boyfriend jeans and military jacket to add more personality.
Autumn / Winter is the season for the throne of sleeveless coats. You can choose a thick denim shirt to mix with a T-shirt and a dark skirt … or a maxi skirt is also very effective. This mix is ​​suitable for a pear girl with the ideal height.
Apple Appearance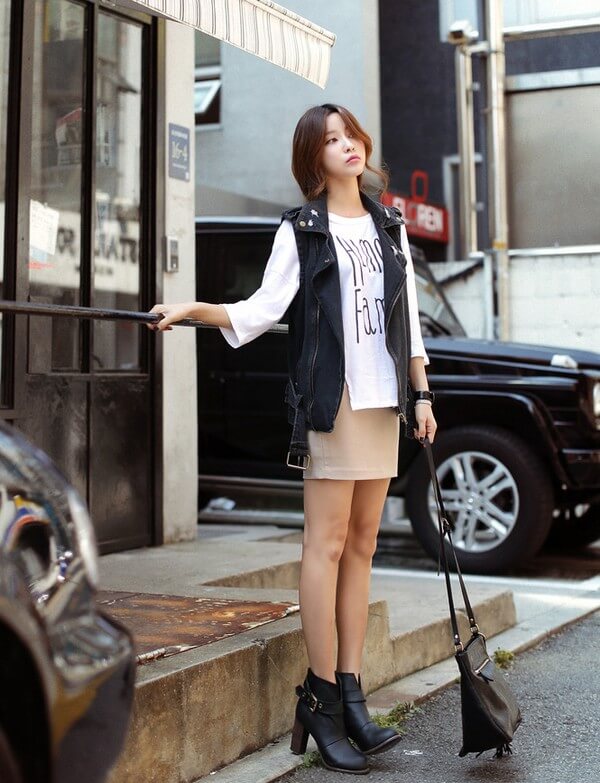 Contrary to pear-shaped, apple-shaped body possesses a rather "massive" upper body. Therefore, the first factor to remember is to choose a jacket with fabrics that are not too thick, not too rough, and less heavy. When wearing a jacket, do not button the shirt, as this will create openness for the outfit. The inner shirt layer should choose tank-top or V-neck T-shirt to make the body look slimmer. In addition, the apple also needs to wear a darker outer layer than the inner layer to make her upper body thinner and thinner.
The strength of her apple is usually her slim legs, so make full use of short skirts, short skirts or mix style "disappearing pants". For her apple, should choose soft material, hugging body shape and have waist accents to fully respect her figure.
Using thick, heavy materials like leather shorts / leather skirts somewhat helps direct attention to the slim lower body. The apple girl should choose coats with minimalist designs, dark tones. Mixing layering can perfectly conceal the coarse hand / shoulder blemish of the apple. Her outfit should be left open, V-neck to look slimmer.
With slim legs, she can confidently wear a "disappearing pants" fashion, mixing a jacket with a skirt / short of corresponding length. Tailored short + simple white T-shirt + Blazer: great set of clothes for an apple girl who loves elegant and stylish styles.
Rulers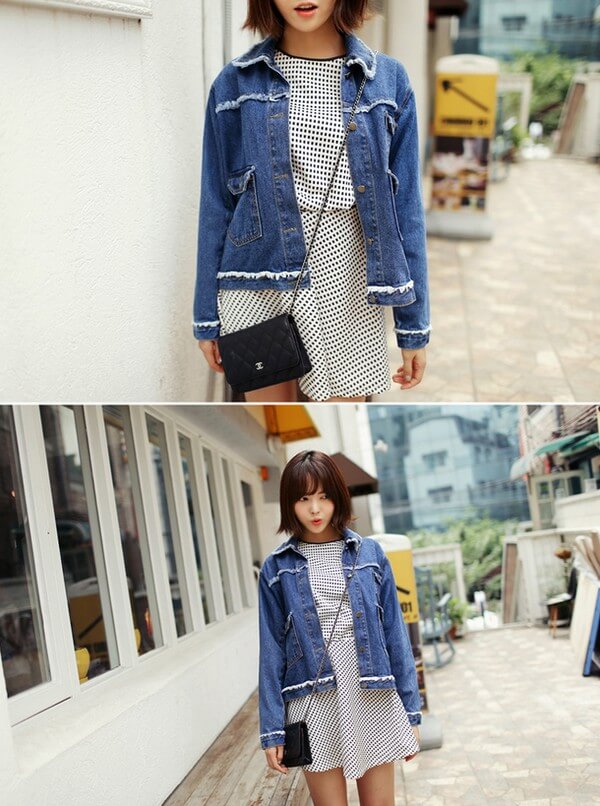 Layering-style outfits are especially suitable for girls with thin bodies, typically a ruler. Choosing this style is suitable for the cool weather of autumn, while helping her to deceive the eyes of the opposite person and create the feeling that she looks a lot more "fleshy".
To really work, mix brightly colored outfits together, but avoid any layers with floating colors and patterns. Also avoid clothes that are too wide or too thick or wear too many accessories, because that way the ruler will look no different from the clothes hanger.
She was usually thin, so she could wear layering easily, but she was usually short in stature. So if you're wearing layering, choose badger jackets to cheat your proportions.
Typically mix with short, spread dresses. This dress shape will help your ruler look fuller. Crop-top is equally effective, and very trendy. Mixing crop-top with short will help her ruler look much taller than reality.
Fluffy skirts and oversized jackets are-the perfect pair to-show off on-a busy street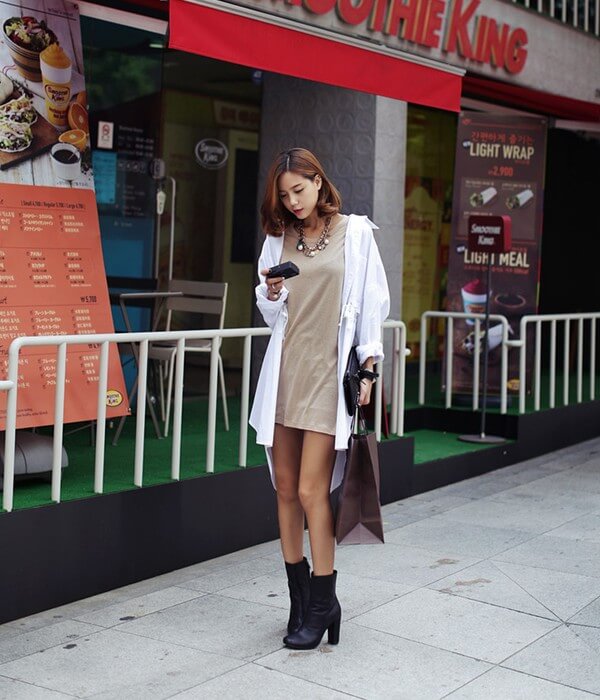 Mixing oversized shirt layering with T-shirt, high waistband short to help her make the ruler look "long" in body, while highlighting the dynamic and youthful. Bright colors, horizontal patterns are always a good assistant for her ruler.
Camisole is a very "hot" fashion and is currently the most popular hot girl. Why did not the ruler not try to mix this item with a jacket to sit on the shoulder? Fluffy skirts and oversized jackets are the perfect pair to show off on a busy street.
If you are a girl with a good height, try mixing a sleek maxi dress with a mezzanine jacket. In particular, geometric patterns like polka dots will make your body look full of life.