Overcoming all the trendy trends and item statements, the basic white cotton shirts are always at the top of the items with the most flexible mix & match capabilities.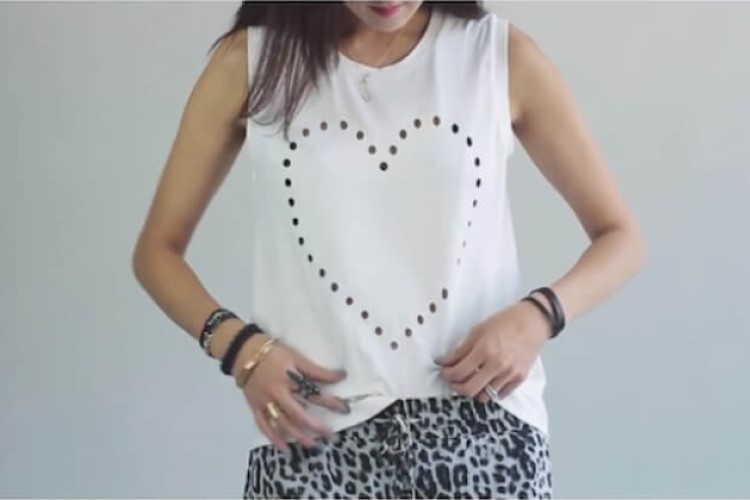 Already a woman, all of us like to wear beautiful and be tested with unique and new trends and trends. However, there will definitely be days when you just want to "be lazy" and wear whatever you see first when you get out of bed, regardless of whether you are in fashion or not. Save this weather or not.
Set clothes with all different styles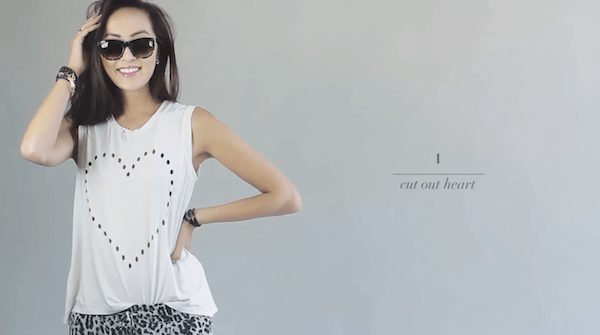 But even in the lazyest you can still wear beautiful and trendy because just choose for yourself the basic items, never out of fashion and out of season, you can completely mix & match so all the sets with all all different styles without spending too much time thinking. One of those basic items is white cotton shirts, or more closely, a white T-shirt.
Coordinated in casual style
The white T-shirt seems like an item that can only be mixed in a casual style, but in fact, just a few tips when wearing and a little attention in how to choose the item to match with, you can completely turn that casual item. become polite and luxurious for all cases, circumstances … To understand more, let's take a look at how to mix 3 white T-shirts into many different styles!
1. Tank-top shirt
Tank tops are probably the easiest item to mix in our wardrobe, especially when they're white. Because, you can completely mix them with all kinds of clothes with different colors and motifs without having to think about whether they match and match with each other. For a white cut-out tank top, to be able to coordinate with the casual style, you just need to choose for yourself a simple shorts or skinny pants or with a pattern depending on your preference and style. choose. One tip for mixing a casual white T-shirt is to put the front flap of the shirt into the pants or skirt to create a dusty look.
Same with the same tank-top, but if you completely put the shirt in your skirt or pants, you have a more elegant and neat style. For this way of wearing, you can choose for yourself the feminine and sweet circle dresses to change the style of the casual shirt. And of course, do not forget to choose to mix a pair of high heels to enhance the look!
2. White shirt with rivet details
If you think normal white shirts are too simple and bland, why not try choosing a shirt with accent details like studs? This item is not difficult to find and you can even DIY to your liking in a very short time. With just a little rivet as a highlight, a normal T-shirt will become more personality. Can you mix this item in a trendy white-on-white style and use an accessory with a rivet color tone for more accents?
Use accessories with the same color studs to create accents, such as … belts … or jewelry.And as long as you slip the shirt into a skirt, you have a set polite. If you want to mix things safely, you can choose for yourself black items to mix with, but if you want to try mixing different colors, a color matching the rivet color will be "hard" for your white t-shirt.
3. V-neck shirt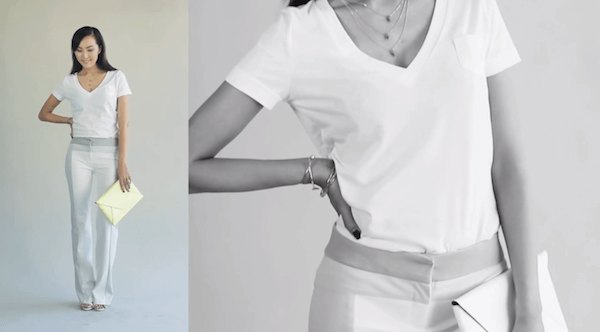 V-neck shirts are always considered "skillfully" sexy and seductive items. As long as you choose for yourself a shirt that is not too deep, you will still retain a subtly polite and sexy look. For casual shirts like this, the easiest way to mix clothes is to choose for yourself a basic set, without too many details such as mixing with jeans. But it's the most basic set of clothes that are the perfect opportunity for you to experiment with statement jewelry and chunky boots without distracting and adding more highlight to the outfit!
Just do a simple operation that is changing your jeans with a polite trouser, do you have an elegant set to go to work or to school presentations for example? Selected accessories may also be lighter and more refined, but why not choose a prominent neon clutch for yourself as a highlight?